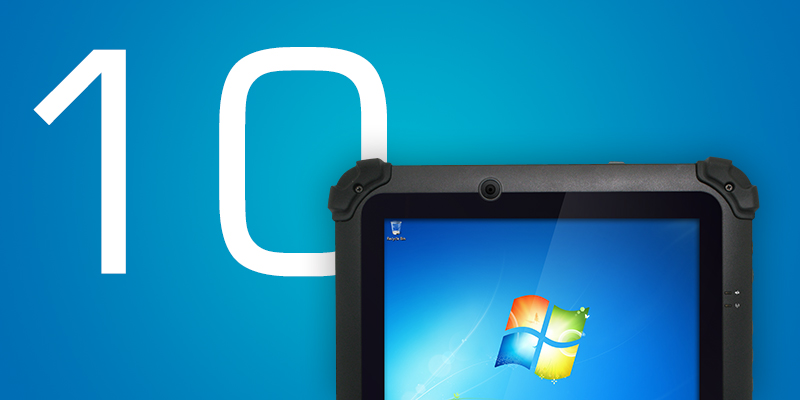 Rugged tablets are skyrocketing in demand as various industries realize their value and get on board with superior hardware to go with ever evolving software. The rugged tablet isn't just an oversized smartphone that comes with a fancy case; it's a ground-up, technologically advanced purpose-built tablet that combines function and security into a highly mobile, multi-use device.
Benefits of rugged tablets include:
Mobility. With a rugged tablet you are untethered from the desk and office, able to take your data with you in the field or on the road.

Security. With features like built in card readers and multi-step authentication software, each device allows access only to authorized personnel, and can differentiate between levels of clearance.

High Performance Processing. Each tablet is equipped with a high performance processor, whether it's an Intel dual or quad-core processor or above.

Screen Size. Whether you need a compact 7 inch tablet or a large 13.3 inch screen, we have the rugged tablet for you.

Sunlight Readability. When moving in and out of doors, a non-glare screen can keep your tablet screen readable.

Capacitive Touch Screens. Use a fingertip or stylus for maximum portability. Rugged tablets are designed to pick up on touch movement even in cold or hot conditions.

Temperature Resistance. Whether triple digits in the desert or below 20 degrees, a rugged tablet can keep going without freezing up or over-heating.

3G / 4G Connection Modules. Access your data network on the go, with an ever widening range of mobility.

Wi-Fi / Bluetooth Functionality. Tap into the closed network on the job and enjoy hands free operation to improve productivity and enable better logistics.

Compatible Operating Systems. Seamlessly integrate with existing systems and share, transmit, store, and view data in familiar frameworks.
Additional Features
Besides the benefits listed above, rugged tablets can be customized to meet nearly any requirement. A camera, a smart card reader, an RFID chip, a barcode scanner or other data capture module, and charging cradles, keyboards, and multiple or split screen functionality are all options.
The rugged tablet is the device of the future, so don't get left behind – enjoy all the advantages of a mobile device with all of the benefits of a PC with rugged tablets designed for functionality, mobility, and strength.