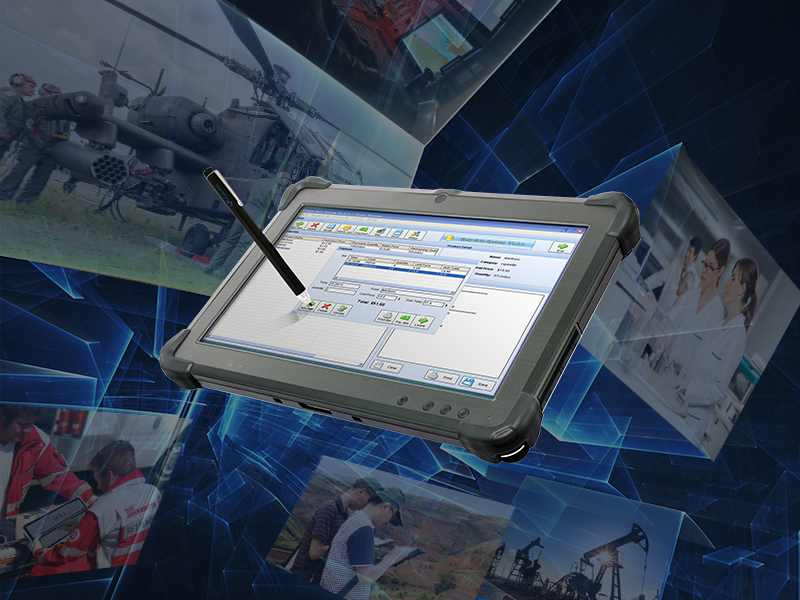 DT Research specializes in anticipating needs in various verticals and creating the ideal products to meet and exceed expectations. Each line of products is infinitely customizable, able to be scaled up as needed, and provides the best end user experience possible.
Military / Government
The Rugged Tablet is designed for durability, portability, and security in settings where being tethered to a desktop isn't a viable option and laptops are too fragile and bulky. They perform indoors, outdoors, and in harsh environments, providing a larger than usual tablet screen, a shatter resistant exterior, and shock resistance built in to every device. Security features allow for varying levels of access with built-in card readers that recognize levels of clearance.
3 Main Industries DT Research Serves:
Construction / Utility Service
GNSS Tablets come standard with touch screens, high performance processors, and all the tools required for fast, accurate mapping, surveying, and positioning as well as many GIS applications. Mitigating the issues of lost paperwork, misplaced plans, or removed flags, information is stored safely in digital form, and can be quickly retrieved, reviewed and shared in real time. Options allow for three views per screen and allow overlays to be turned into 3D representations of actual blueprints. Our rugged tablets can be taken into the field or used in the office, delivering reliable performance whether mounted in a vehicle or forklift or in the hands of field staff.
Healthcare
Medical Cart Computers make data collection, input, review, transfer, and collaboration both mobile and secure. Hot-swappable batteries ensure there's no interruption of patient care and no need to remember to plug in carts. With all-in-one efficient designs, these Medical Cart Computers offer touch screens adding to ease-of-use, high speed processors for top performance, and anti-microbial coating add an extra layer of protection.
Industrial / Manufacturing
More uses for Rugged Tablets exist in the world of high speed industry, from manufacturing to warehousing to the logistics of transport. Streamlined efficiency means no wasted trips back and forth carrying clipboards from field to office – data can be captured, transmitted, and updated immediately. A tablet dropped, stepped on, or knocked off of a truck doesn't mean loss of data or functionality.
Whether it's a need for durability, potential to safeguard lives on the line in a military or hospital setting, a need for high level mobile security on a government level, streamlined efficiency in an industrial or manufacturing environment, DT Research provides the highest level of quality and functionality in the rugged tablet market.