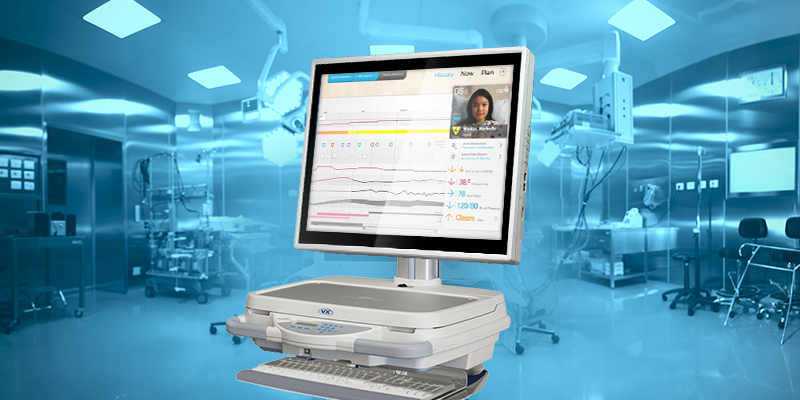 Using medical cart computers is good for patients, good for nursing staff, good for doctors, and good for administrators who need accurate records to manage patient transfers, billing, and more. Medical cart computers provide multiple advantages for both patients and health care personnel.
The features outshine those of early medical computers on wheels, and the advanced technology streamlines patient care, no matter where the patient is located in the hospital or care center. Benefits apply not only to the patients themselves, but anyone handling and deriving treatment knowledge from the data.
With all-in-one computers, doctors and nurses will have access to the information they need at all times, resulting in less mistakes and higher productivity for each shift. There is no running back and forth looking for patient records or folders – all the data is stored by the patient's bedside in a portable format that can be taken from room to room as needed.
Hot Swappable Batteries Mean No Downtime
Possibly the most attractive benefit of the medical cart computer is the advantageous hot swapped battery system, which allows batteries to be exchanged without the unit powering down. These built in swappable batteries offer a more affordable option that traditional medical cart batteries, which are large, heavy, expensive and take longer to charge.
Each all-in-one unit comes with 3 batteries, meaning that the computer can run continuously covering entire shifts, never going down and causing interruption of patient care or loss of data.The 3 batteries cover about 16 hours of operation , and every shift can start with fresh batteries.
The cart never has to be taken to another location for charging – the batteries are simply removed and charged while a fresh battery is installed to continue operation. This provides for superior service at the point of care.
Time Saved, Lives Saved
The time saved by always being able to depend on the medical cart computer being powered up and accessible is vast – and patient care is made that much more accurate with all the data at each caretaker's fingertips. With data capability at the patient's side, any relevant records, test results, or doctor notes can be reviewed on the spot. Allergies can be cross referenced, and medication contraindications checked for.
With Electronic Health Records rapidly supplanting older, traditional forms of data storage, having portable, high tech medical cart computers for every hospital room is is a huge advantage for patient care in an increasingly digital age.